See here a publication of a pilot project of microLAN in Las Vegas on waterstart.com.
LAS VEGAS – Through WaterStart, Netherlands-based tech company microLAN has partnered with the University of Nevada, Las Vegas (UNLV) for a pilot project that tests its BACTcontrol unit, which detects the presence of bacterial contamination in water and can be used for the detection of bacterial activity in water.microLAN specializes in early warning systems for water quality monitoring based on light measurements and has developed a range of fully automated online monitoring devices for protecting the quality of drinking, surface and process waters from algae, bacteria and chemical-toxicity pollution.In its research with UNLV, the pilot project implementing microLAN's technology aims to demonstrate how its products can help local agencies address water quality concerns."It's critically important to ensure that drinking water and recycled water are free of certain types of bacteria such as E. coli," said Dr. Daniel Gerrity, UNLV Assistant Professor in the Department of Civil & Environmental Engineering and Construction. "We will be testing microLAN's BACTcontrol technology to demonstrate that it can detect bacterial contamination in near-real-time—an important goal for public health protection."Once the project is complete, microLAN plans to fund future research internships for Nevada students. Furthermore, the company is interested in potentially expanding its business in Nevada."microLAN's collaboration with UNLV is an exciting partnership that aims to address water issues and has the potential to spur economic growth in our water sector," said WaterStart Executive Director Nate Allen. "Its innovative technology is easing the process of water quality and water security through its online systems, and we look forward to seeing the results of this research over the next few months."WaterStart, housed in the Las Vegas campus of the Desert Research Institute, helped bring microLAN to Nevada and assisted in facilitating its partnership with UNLV.

"We´re very excited to start our pilot with UNLV and proud to work with Dr. Gerrity, a renowned scientist and specialist in potable reuse applications," said microLAN Managing Director and Owner Joep Appels. "We´re looking forward to showing the advanced use of our instrument in various pilots using different disinfection and advanced oxidation processes. The initial start will be at the lab of UNLV, where the analyser will go through a thorough validation process, and we´re thrilled to see the outcome of this."

microLAN's BACTcontrol system can be used for detection of E. coli, coliforms, enterococci and total bacterial activity in water. The enzyme activity is detected by adding reagents that contain a fluorescent indicator.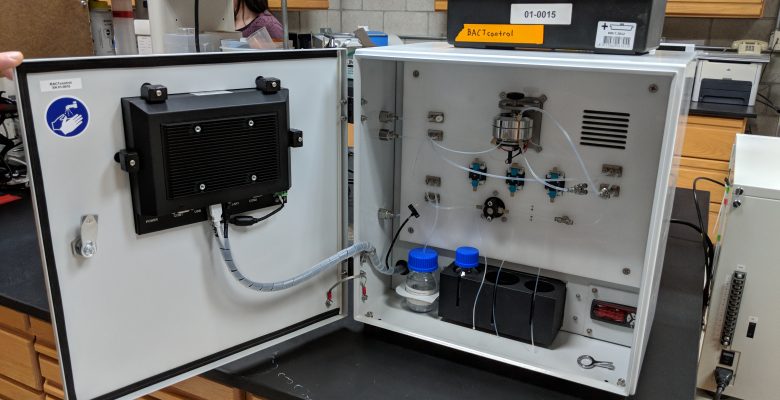 About WaterStart 
WaterStart is a cluster of global leaders in the implementation of water innovation. Based on the Las Vegas campus of the Desert Research Institute, WaterStart leverages the strategic resources and expertise of its network to evaluate and demonstrate the performance of water innovation. As a channel for innovation, WaterStart accelerates the rate of adoption of new solutions to real challenges facing water management agencies and large consumers.
For more information, visit www.waterstart.com.